Thorncreek GC, Thornton. Baxter Spann (1992) with renovation (2018).
I never played here very much and they recently did a fairly substantial ($10 million) renovation, so my memories of the course are out of date.
The renovation switched the nines, among other things. My recollection was the (old) back nine was the better side, playing around a creek and just generally in more open land. The changes removed bunkers and widened fairways, among other things.
The current first hole is a good example. As the old tenth, it was a narrow, awkward hole hard against the creek on the left. This was a short hole so you could lay back and leave yourself a terrible angle or try to hit driver between a tree and the creek and hope you'd find the 20 yard wide fairway. Now the bunker to the right is gone and the fairway is significantly wider, allowing for more options off the tee. This is good for an opening hole. But then the truth is more options also very often get the player in more trouble.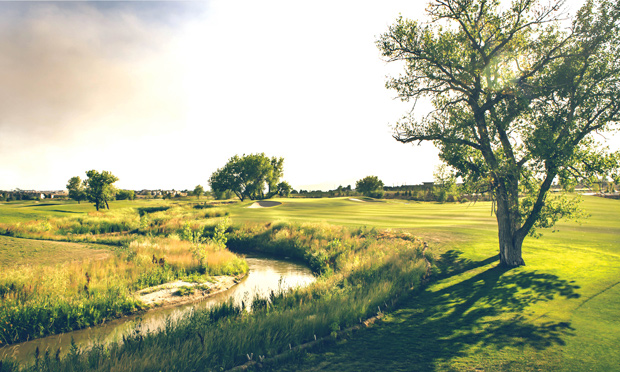 The best holes on what is now the front nine also play around the creek, crossing it in a few places, or playing alongside as at the eighth.
The back nine plays through homes and, in its old iteration was not especially memorable, save for one awkward par 5. There's not much you can do about the real estate, but on this side too the fairways are wider and the options look better.
Even the awkward hole (the 16th now) has been much improved. A creek used to cross the fairway right in the landing zone for the drive, which was very frustrating on a long par 5. For the renovation, Spann was able to pipe the creek under the fairway, allowing players to swing away on the drive. The creek then runs down the left side of the hole to the green which has been moved to the right.
That same creek plays down the left side of the 17th as well, a par 3 with an excellent view of the mountains in the distance.
Thorncreek was never a course that made a big impression on me, but little improvements can make a big difference. I'd certainly like to see it again now.
Colorado 6th Decile [1995]