SouthRidge GC, Fort Collins. Frank Hummel, 1986.
I didn't think much of the front nine here, which plays through homes and doesn't really offer any interesting holes, though at least the land movement keeps things somewhat interesting. But the back nine is much better, getting out into an open area with hills and a some interest created by Fossil Creek.
They've renumbered the holes on the back nine since I played there, but if I have it right the fun really gets started at the 14th, a par 3 that plays significantly downhill to a nice green with a bunker set in front and a great view of the front range as a backdrop.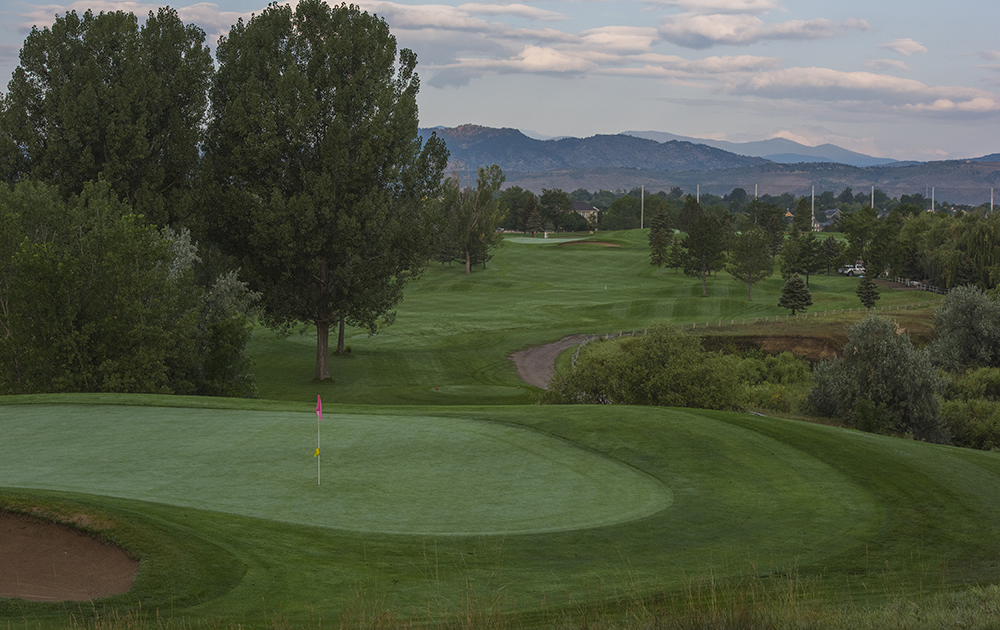 The 16th is surely the most talked about hole, if not necessarily for all the right reasons. It's a downhill par 5 that bends left with the creek down the right side. The green is then ultimately across the creek. The drive must either be a layup to where the fairway jogs left, or else you must play a very dangerous draw over trees to the narrow strip of fairway between the creek and the street on the left. If you lay up, it has to stay between the creek, which challenges the right side, and the street—someone suggested to me the best play is a low draw that will rebound off the fence if it gets too far left, but the fence wasn't high enough to tempt me into taking on that kind of risk. On the other hand, you could try to carry the creek with your second shot, which isn't a terribly long carry and is downhill, but is all carry with trouble left and trees in the line of play as well. It's very nearly a wonderful hole, were it not for the busy road being so close to the line of play and the eyesore net there to protect it.
The now final two holes make for a strong finish. The 17th doubles back, a par 4 playing back up the hill as a dogleg right. Then the 18th is a long par 3 over the creek again, with the green set between the ravine short left and a bunker right.
Ultimately, the course is on the short side for Colorado, not even reaching 6,700 yards, so long hitters can overpower it if they're able to keep control of the ball at all. But for most of the clientele, I suspect that yardage is all the challenge necessary.
Colorado 8th Decile [2001]