Blackstone CC, Peoria. Jim Engh, 2005.
Engh's dramatic style meets the drama of desert golf with mixed results. There are a number of brilliant holes here, as you can expect from Engh, including a few that it's hard to imagine anyone else building.
The ninth is the clearest example of this, a rare short par 5 that can be reachable with two very brave shots—the drive has to challenge the narrowest part of the fairway between desert right and a deep bunker left, and the second shot then is all carry over desert to a green set between a wash and rocks. But playing the hole as a three-shot hole doesn't become boring. The landing areas are much more generous, but each shot must carry desert and the green is still a small target.
The 14th is another wonderful short par 5, which can be reached in two with a totally blind second shot, but as a three shot hole takes the blindness away and provides a considerably better angle for an approach to an incredibly narrow green.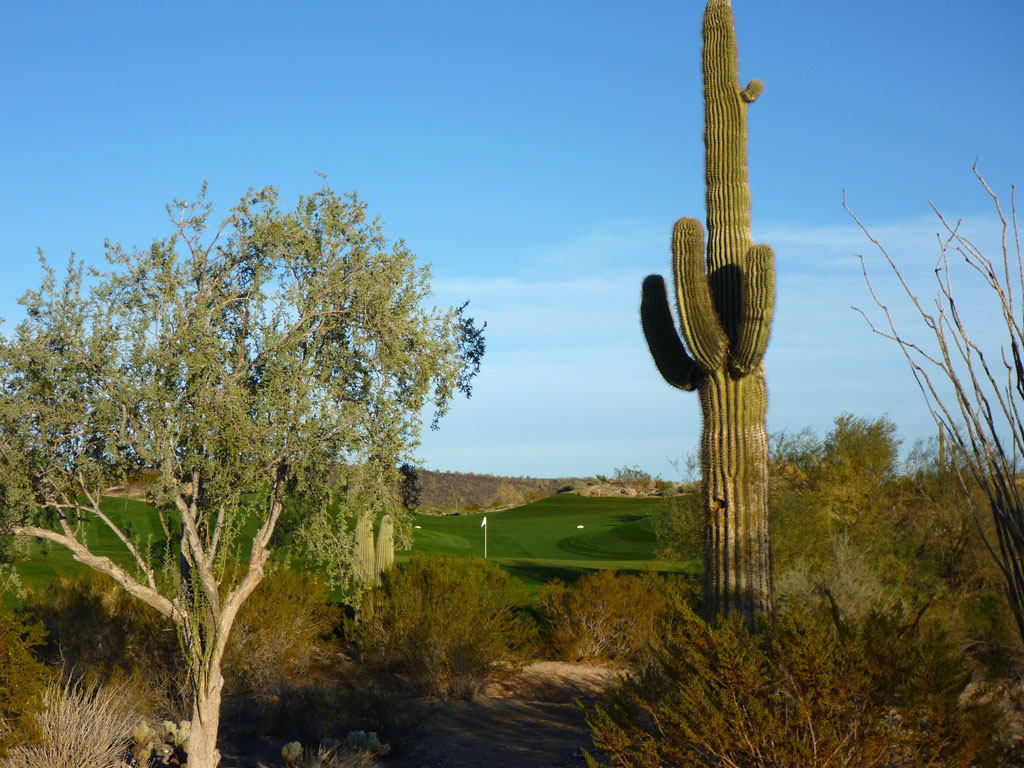 I also enjoy the 16th, which uses natural rock formations to obscure a large landing area. From the tee you can the green, but it hardly looks like there's any fairway on the hole. With the green in sight and the hole under 350 yards, it's tempting to swing away with driver. What the rocks obscure is that a safe layup will find a 60 yard wide fairway. But drive too far and that fairway narrows to almost nothing. The green falls off on every side so it is no fun to try to approach from the rough or an awkward lie. Better just to lay back to the wide fairway.
On the other hand, there are some holes I just don't like very much. The 11th just seems like too much in every way. Well over 600 yards, the first half of the hole has water running down the right side and one of Engh's signature serpentine Bunkers guards the front of the green.
I also found the eighth awkward, as it plays downhill and seems to have too many stages of fairway to choose from. And the 10th with four pot bunkers in the fairway feels more like a hit and hope tee shot than one where you are really able to pick a line. Maybe on both of those holes if you play there enough you'd learn the best way to play them. That's the point of a private club after all.
But overall this is an interesting course with the typical varied Engh greens that can make a hole play entirely different day to day. It's probably pretty friendly as a member's course and as interesting within 18 holes as you can hope for.
Arizona 2nd Decile [2016]