Black Bear, Parker. Jeff Brauer, 1996.
Opened as Canterberry in the mid-90s, this once-public course has since been purchased by ClubCorp and gone private. But though homes have been built up around it as with Saddle Rock and Heritage Eagle Bend and Murphy Creek, most of the holes are not hemmed in by real estate (only a few holes have homes on both sides and on those the corridors are very wide) and overall the original prairie feel of the course here remains.
The highlight of the front nine are the mirrored par 3s played over a ravine, set next to each other. The tees for the third sit by the green for the eighth, and vice versa. Though both holes look similar—forced carries over a ravine to greens angled left to right and guarded by bunkers, they tend not to play entirely alike. First, the eighth is rather longer than the third. More importantly, however, because the holes play in opposite directions they get opposite winds and here on the prairie the wind is likely to be blowing.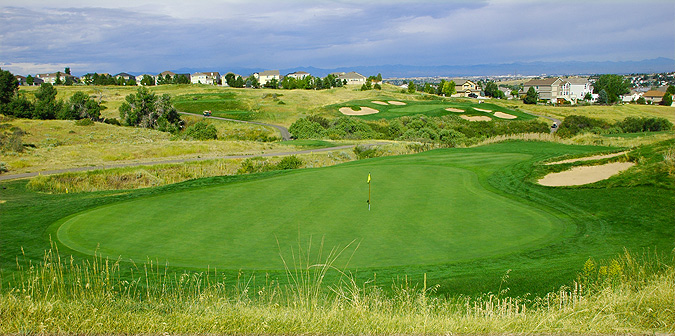 But it is the back nine where the real fun begins. The 10th is a reachable par 5 but anyone hoping to get home in two must hit their drive to a narrow bit of fairway between a bunker left and a ravine cutting into the fairway on the right. The 11th is a shorter par 4 guarded by large bunkers and a creek down the right.
The 12th offers a split fairway. You drive over the ravine. The drive to the right is semi-blind but a much shorter carry, while the tongue of fairway seen to the left looks inviting but is a long carry and may leave a poor angle to the green. And the 13th is a strong par 5 at 576 yards uphill, bending right around an arroyo with the green tucked just beyond the trouble.
The 14th plays over a pond to a green set on a hill with a nest of bunkers set into it. The 15th plays back downhill with a dry ravine to the right and the 16th is a slightly downhill par 3 to a green in a bowl just beyond the ravine. It's a wonderful run of holes that use the natural features of the site and rarely feel forced.
It is a bit more difficult than Saddle Rock (a muni) or Heritage Eagle Bend (a retirement community course), especially when the wind blows, but the middle tees aren't overly long, it's really just a question of the numerous forced carries and a few difficult bunkers and other trouble.
Colorado 3rd Decile [1999]